Pandaren & Monk
The Monk
Pandaren masters have chosen to share their ancient martial arts with young fighters in both the Alliance and Horde. Harnessing their inner strength and potent "chi" energy, Monks are extremely capable in every role: damage, defense, and healing. Monks are masters of bare-handed combat, choosing to draw their weapons only for devastating finishing moves. Monk healers bring harmony and balance to every group, healing even the most grievous of injuries with ancient remedies and focused spiritual arts. And few can hope to out-last the unquenchable prowess of the Monk Brewmaster, whose empowering beverages and unpredictable combat style allow them to absorb incredible amounts of punishment.
The Monk Spells and Talents
Ability
Level
Type

THE LIST IS NOT COMPLETE

BEING UPDATED
-MISSING-

Chi Torpedo

90
Talent

Invoke Xuen, The White Tiger

90
Talent

Transcendence: Transfer

87
Base

Transcendence

87
Base

Zen Meditation

82
Base

Legacy of the White Tiger

81
Windwalker

Mastery: Gift of the Serpent

80
Mistweaver

Mastery: Elusive Brawler

80
Brewmaster

Mastery: Combo Breaker

80
Windwalker

Leer of the Ox

78
Base

Revival

78
Mistweaver

Purifying Brew

75
Brewmaster
70
Brewmaster

Summon Jade Serpent Statue

70
Mistweaver

Grapple Weapon

68
Base

Thunder Focus Tea

66
Mistweaver

Healing Sphere

64
Base

Path of Blossoms

64
Base

Uplift

62
Mistweaver

Dampen Harm

60
Talent

Diffuse Magic

60
Talent

Rising Sun Kick

56
Windwalker
56
Mistweaver

Brewing: Tigereye Brew

56
Windwalker

Gift of the Ox

56
Brewmaster

Crackling Jade Lightning

54
Base

Life Cocoon

50
Mistweaver

Avert Harm

48
Brewmaster

Spinning Fire Blossom

48
Windwalker

Spinning Crane Kick

46
Base

Dematerialize

45
Mistweaver

Charging Ox Wave

45
Talent

Leg Sweep

45
Talent

Adaptation

45
Windwalker

Desperate Measures

45
Brewmaster

Paralysis

44
Base

Sparring

42
Windwalker

Renewing Mist

42
Mistweaver

Crackling Jade Lightning

40
Base

Energizing Brew

36
Windwalker

Elusive Brew

36
Brewmaster

Brewing: Elusive Brew

36
Brewmaster

Brewmaster Training

34
Brewmaster

Teachings of the Monastery

34
Mistweaver

Surging Mist

34
Base

Enveloping Mist

34
Base

Spear Hand Strike

32
Base

Surging Mist

32
Mistweaver

Zen Pilgrimage:Return

30
Base

Chi Burst

30
Base

Disable

28
Base

Afterlife

26
Windwalker

Guard

26
Brewmaster
Expel Harm
26
Base
Fortifying Brew
24
Base
Swift Reflexes
23
Base
Touch of Karma
22
Windwalker
Touch of Death
22
Base
Legacy of the Emperor
22
Base
Internal Medicine
20
Mistweaver
Detox
20
Base
Combat Conditioning
20
Windwalker
Zen Pilgrimage
20
Base
Flying Serpent Kick
18
Windwalker
Chi Wave
18
Base
Breath of Fire
18
Brewmaster
Resuscitate
18
Base
Tiger's Lust
15
Talent
Provoke
14
Base
Expel Harm Driver
12
Base
Keg Smash
11
Brewmaster
Mana Meditation
10
Mistweaver
Tiger Strikes
10
Mistweaver
Vengeance
10
Brewmaster
Dizzying Haze
10
Brewmaster
Soothing Mist
10

Mi

stweaver

Stance of the Wise Serpent
10
Mistweaver
Stance of the Sturdy Ox
10
Brewmaster
Fists of Fury
10
Windwalker
Dual Wield
10
Brewmaster
Blackout Kick
7
Base
Roll
5
Base
Tiger Palm
3
Base
Jab
1
Base
If You need a Monk talent calculator, please check out wowhead: Monk talent calculator!
---
Meet the Pandaren!
FACTION: ALLIANCE / HORDE
Couched in myth and legend, rarely seen and even more rarely understood, the enigmatic pandaren have long been a mystery to the other races of Azeroth. The noble history of the pandaren people stretches back thousands of years, well before the empires of man and before even the sundering of the world.
RACIAL TRAITS

Epicurean:
Increases the stat benefits from food by 100%
Gourmand :
Cooking skill increased by 15.
Inner Peace :
Your rested experience bonus lasts twice as long.
Bouncy :
You take 50% less falling damage.
Quaking Palm :
You touch a secret pressure point on an enemy target, putting it to sleep for 3 seconds.
Denizens of a wondrous and fertile land, the pandaren once labored under the oppressive thumb of a monstrous race of ancient warlords known as the Mogu. Through tenacity, diplomacy, and a unique form of unarmed combat, the pandaren staged a successful revolution that deposed the Mogu and established a pandaren empire that would prosper for thousands of years. During the bleak days that preceded the sundering of the world, when demons flooded onto Azeroth and threw the entirety of the mortal realm into jeopardy, the last Emperor of the pandaren discovered a way to protect his land from the devastation. His deal with fate shrouded his land within an impenetrable mist for ten thousand years, but the nature of his transaction has left Pandaria haunted ever since...
Wanderlust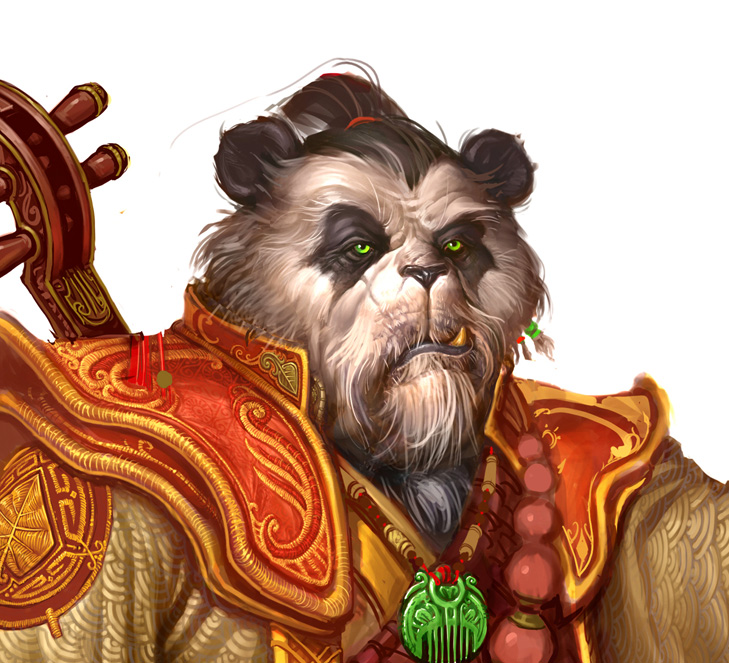 It is the rare pandaren indeed who sought a way beyond the mist. Generations ago, pandaren explorers began to gather on the back of a giant turtle: Shen-zin Su. The great sea turtle roamed Azeroth's oceans, perhaps the only contact pandaren had with the outside world. Eventually, they too lost contact with their mist-shrouded homeland. Players who choose to create a pandaren character will start their journey on the back of Shen-zin Su. When the great turtle is threatened, and their whole wandering homeland is in jeopardy of being swallowed by the sea, players will have to accelerate their training and spring into action. During their time on the turtle, players will first encounter the Alliance and Horde. Before they are finished, they'll have to make the most important decision of their lives: Which of the two factions will they support as they venture out to heal a world broken by the Cataclysm and threatened by a global war?